As a parent, you have so much to consider when creating the safest home for your little one – and your baby's sleep space is a big part of that. After all, newborns sleep up to 16 hours a day!
With that in mind, you're probably looking for the best breathable crib mattress for your nursery, so that you can rest assured your little one is resting on a surface built with safety in mind. However, it's also important to understand that breathability is just one feature that matters. Let's take a closer look.
What Is a Breathable Crib Mattress?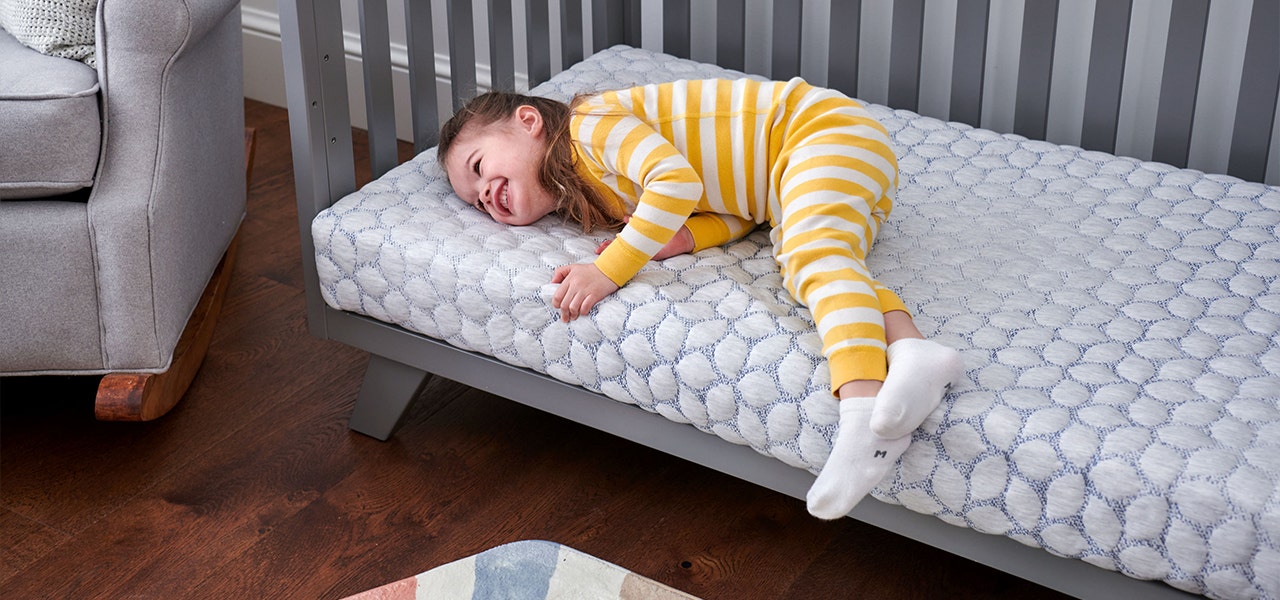 If you're a new or expecting parent – or even an experienced one! – you may be surprised by the countless breathable crib mattress options available to you on the market today. With so many choices, it can be hard to understand the features of each one.
In general, a breathable crib mattress is one that is meant to maximize the airflow between your baby and the crib mattress. This feature allows for Baby to stay comfortable and cool, helping to prevent overheating. The added breathability can also give parents peace of mind once their little one is old enough to roll over in their sleep.
Is Breathable Really Safer?
Our main priority here at Lullaby Earth is to provide your baby with safer and healthier sleep – period. After all, healthier sleep makes for a happier family! The most important steps you can take to make sure your baby can breathe safely in their crib are to:
Make sure the crib mattress meets the American Academy of Pediatrics (AAP) recommendations and Consumer Products Safety Commission (CPSC) standards for firmness (more below!)

Keep loose blankets, pillows, soft toys, etc. OUT of the crib and never use a decorative bumper
That said, breathable baby mattresses do provide enhanced breathability by allowing for babies to breathe through the surface. This is especially important if your baby is able to roll over face-down while sleeping. Lullaby Earth's Breathe Safe and Gentle Start™ breathable crib mattresses accomplish this in an innovative way. We use a removable, washable breathable cover featuring a 3-D design that allows for 360 degree air circulation – this means that babies can breathe even if they are face-down on the mattress.
With a breathable crib mattress, you'll spend less time at night worrying if your baby is safer inside of their crib and more time catching up on the rest you need.
4 Essentials in a Breathable Crib Mattress
With so many breathable crib mattress options out there, it's important to know what other essentials to look for. The best breathable crib mattress will have these four elements!
1. Physical Safety
Crib mattresses should be crafted with a firm, flat surface to provide babies with the safer, healthier sleep they need. Our crib mattress design here at Lullaby Earth both follows the AAP recommendations for safe baby sleep and complies with the Consumer Products Safety Commission (CPSC) criteria.
Not only should crib mattresses be firm themselves, but they should also include firm edges. Edges of a crib mattress should be reinforced to prevent Baby's arms or legs from slipping between the crib mattress and the frame, which can cause injuries to your little one's growing limbs. With jumpy toddlers, it is extremely important to know that your little one's feet, arms and legs will stay on the mattress at all times!
A crib mattress should also fit snugly in its crib frame. Always remember to use the two finger test for optimal safety: make sure that any gap between the crib mattress and the frame does not exceed the width of two fingers!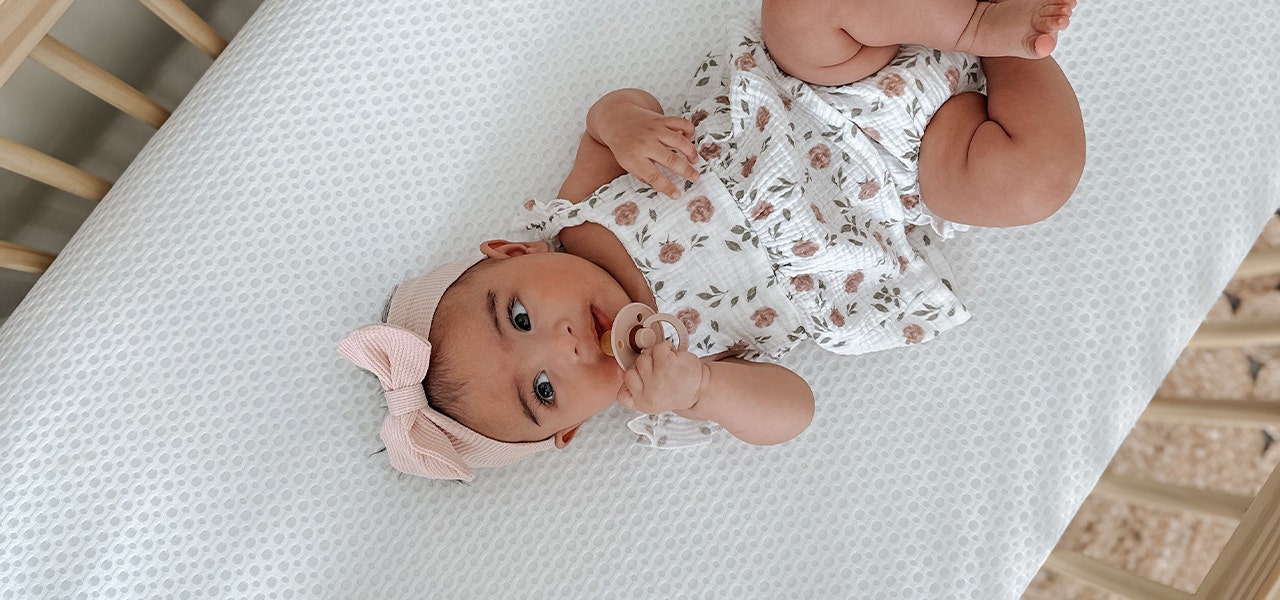 2. Waterproof Surface
Babies are messy – between spit up and other messes, it's essential that their crib mattress stays clean and hygienic through it all. Waterproof surfaces are easier to clean and safer for your little one's health.
The porous surfaces and non-waterproof materials that you'll find with most breathable baby mattresses on the market provide the perfect environment to harbor mold, mildew and other bacteria growth inside of the crib mattress. This means that your little one is breathing in all of that yuckiness while they sleep. These surfaces are also much harder to clean than a smooth, waterproof surface – talk about a complete hygiene hazard!
Lullaby Earth crib mattresses are waterproof beneath their breathable cover to prevent any messes from getting trapped inside of the mattress. And, if Baby is to make a mess on their mattress, simply throw our breathable cover into the machine wash for an easy clean every time.
3. Allergy-friendly Materials
Common allergens for littles can be tough to not only figure out, but to avoid as well. Instead of using common allergens like latex and wool, Lullaby Earth uses food-grade polyethylene and polyester in our crib mattresses.
These materials are known for being non-toxic and recyclable. In fact, they're also some of the most common materials in the food-packaging industry because of their safety.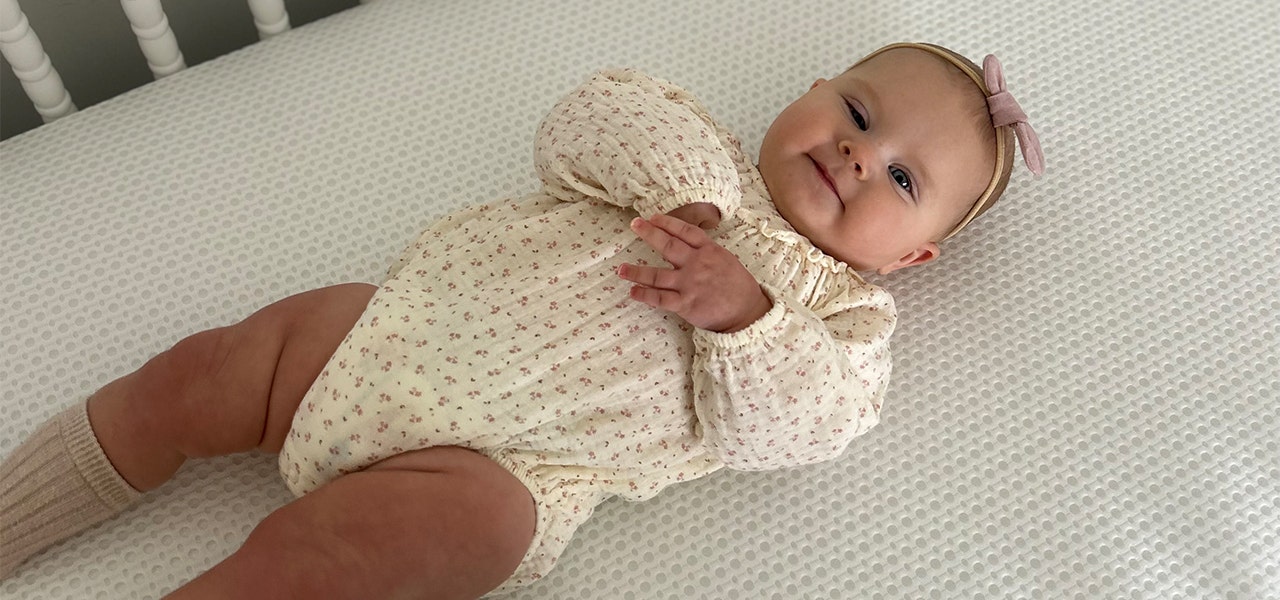 4. No Harmful VOCs
Crib mattresses made with certain materials, like memory foam, can off-gas chemicals in the air called volatile organic compounds (VOCs). These chemicals are extremely toxic and are associated with lung damage, nervous system damage and more.
Here at Lullaby Earth, we have completely avoided any material that is known to off-gas toxic VOCs to ensure that your little one stays far away from these chemicals! Our MADE SAFE® certified non-toxic crib mattresses are made without polyurethane foam, flame retardant chemicals, phthalates, PFAS, vinyl/PVC, glues and adhesives, formaldehyde or known allergens.
As passionate as we are about our products, we are even more so for the health and safety of your family. With your little one in mind, we have crafted each one of our crib mattresses to be breathable, safer and healthier.
Now that you're a breathable mattress expert, check out our other tips on creating your non-toxic nursery!