We take crib mattress safety seriously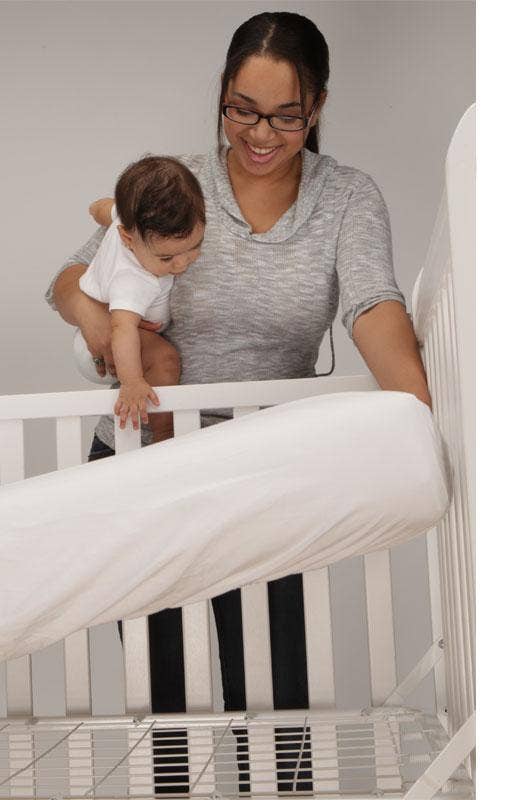 Strong Structural Support
When it comes to providing proper support for your baby, Lullaby Earth crib mattresses won't let you down. Our patented WaveSupport™ design conforms to Consumer Product Safety Commission (CPSC) and pediatrician firmness recommendations so your baby has the firm, flat surface needed for safer sleep.

"To reduce the risk of Sudden Infant Death Syndrome (SIDS) and prevent suffocation, put your baby to sleep on his/her back in a crib on a firm, flat mattress."
Consumer Product Safety Commission (watch video)
Firm Edges

Many crib mattresses have soft or flimsy edges. Lullaby Earth mattresses have reinforced edges, which help to keep your baby's arms and legs from getting caught between the mattress and the crib. They also stand up to bouncy toddlers who stand or jump at the edge of their bed.
Snug Fit

It's important that the crib mattress fits properly in your baby's crib without any gaps. Lullaby Earth crib mattresses are designed to fit snugly in standard size cribs. Use the two-finger test for safety: gaps between the mattress and crib should be no wider than your first two fingers.
Hygienic

Lullaby Earth mattresses have a practical, easy-to-clean design, so your baby's crib stays clean and hygienic. Our patented waterproof surface protects the mattress interior from mold, mildew, urine, and other contaminants. Wipe clean with mild detergent.
Chemical Safety

Lullaby Earth crib mattresses are made without questionable chemicals and materials like formaldehyde, perfluorinated compounds (PFCs), pesticides, glues/adhesives, and GMOs. Our mattresses are made without polyurethane foam or vinyl/PVC.
Allergenic Safety

Lullaby Earth mattresses are made from food-grade polyethylene and polyester - common materials used throughout the food packaging industry due to their purity and recyclability. Using these food-safe materials means a healthier design made without common allergens.
Made Without Flame Retardants

We're on a mission to provide a safer crib mattress in terms of physical and chemical safety. Lullaby Earth crib mattresses are made without flame retardant chemicals or flame barriers of any kind, yet still pass all government flammability standards.
Breathability

Lullaby Earth offers breathable options to enable airflow between your baby and the mattress for a safer more comfortable sleep.