With Thanksgiving just around the corner and your sweet little one in your arms, there's a lot to be grateful for. So, why not share the good vibes with your kiddo? A great way to teach gratitude to your child (and it's never too late to start!) is through bedtime stories.
Gratitude Can Lead to Happier, Healthier Kids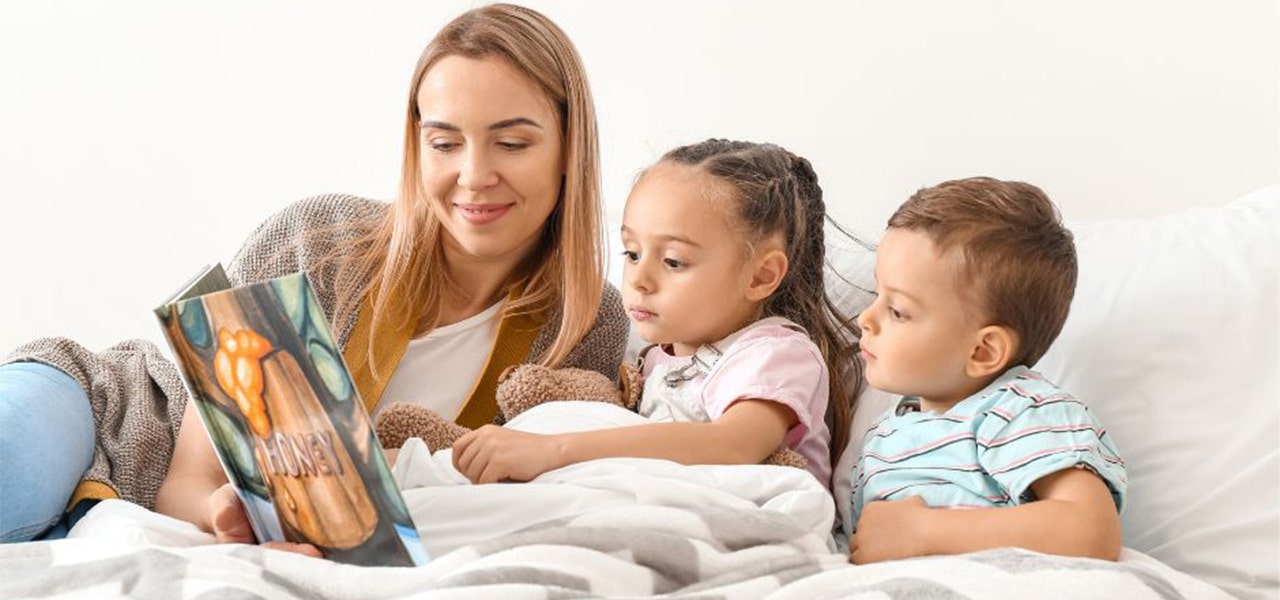 Most of us know that eating the right foods, incorporating non-toxic living practices and being mindful of our daily habits are all great ways to positively affect our well-being. But did you know that practicing gratitude can have an impact on our health, too? Gratitude practices not only help your mental health, but they can also give great benefits to your physical health!
For parents, practicing gratitude throughout your day is linked to health benefits such as:
Gratitude can positively impact our littles, too. Children who focus on the good things tend to exhibit more hopefulness, positive thinking and positive actions. These can help increase your little one's confidence and better their mental health, mood and stress levels.
Benefits of Bedtime Stories
It's important to find ways to teach our younger ones about this practice in a way they'll understand. Bedtime stories are a great way for kiddos to relax, unwind and hear about their favorite characters before they drift off to sleep (tucked into their big kid bed!). But did you ever think that bedtime stories can be a great learning tool for your kiddos, too?
Bedtime stories are not only a great bonding activity for you and your little one, but they also provide several developmental benefits. When you read a bedtime story, your kiddo's brain is exercising narrative comprehension and mental imagery. And, as your child learns new words through books, their language comprehension and vocabulary increases, too.
Aside from brain development, bedtime stories can also help:
Lower your little one's stress levels

Exercise their imagination

Improve their logic skills

Encourage their love for reading
10 Books That Teach Gratitude
Because books are so beneficial for your kiddo's learning and emotional management, we've compiled a list of 10 children's books that teach gratitude in a kid-friendly way. These stories will be a great addition to your bedtime routine – plus they have important themes surrounding gratitude that are easily digestible for littles!
The Thank You Book by Mary Lyn Ray
Perfect for ages 2-8, The Thank You Book is a picture book that teaches children just how important thankfulness and gratitude – for things big and small – are in everyday life.
Last Stop On Market Street by Matt de la Peña
Not only has Last Stop on Market Street earned #1 New York Times Bestseller and USA Today Bestseller titles, but it is also a Newbery Medal winner and a Caldecott Honor Book. Featuring a young boy and his precious bond with his grandmother, the story unfolds as the two discover important lessons in kindness, empathy, joy and gratitude – together.
Apple Cake: A Gratitude by Dawn Casey
Pictures and rhymes are the perfect combination for an engaging children's book. Apple Cake: A Gratitude illustrates gratitude for all things nature-related, with a special treat at the end – literally!
Spoon by Amy Krouse Rosenthal
What better things to be grateful for than ourselves, our personalities and everything that makes us individual? Spoon is a gentle reminder for all ages to celebrate yourself for who you are and to avoid comparing yourself to others.
Give Thank You A Try by James Patterson
As a beloved sequel to Patterson's Give Please A Chance, Give Thank You A Try is a simple yet lovely picture book encouraging conversations about manners, what "thank-you"s truly mean and more.
Where Happiness Lives by Kane Miller
Not only does this children's book have rhymes, peek-a-boo flaps and cutouts, but Where Happiness Lives also serves as a perfect reminder that having just what you need, in a home that is your family's, is more than enough to be thankful for.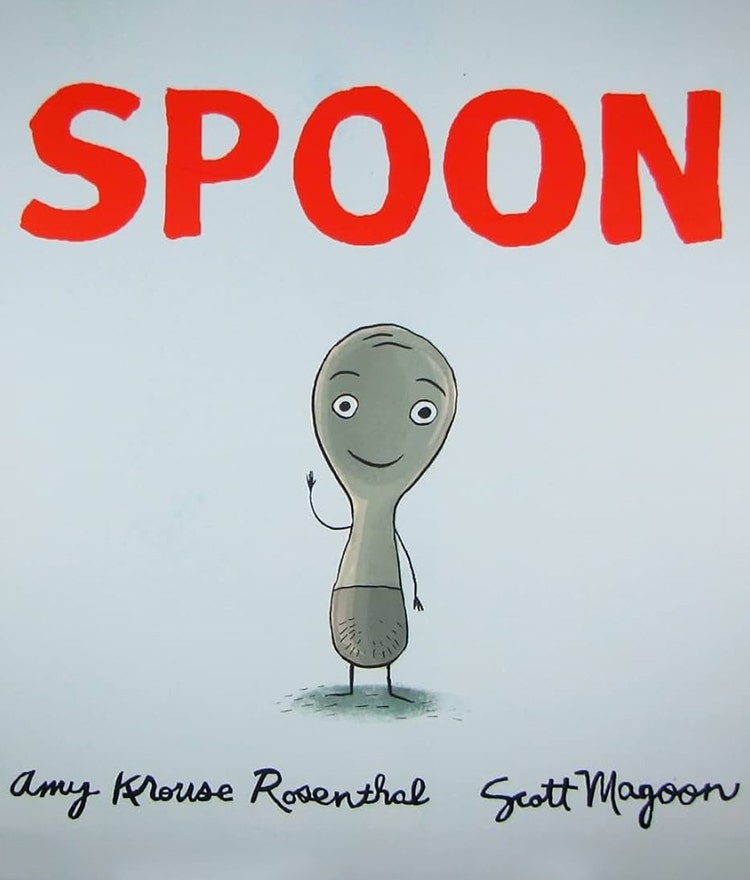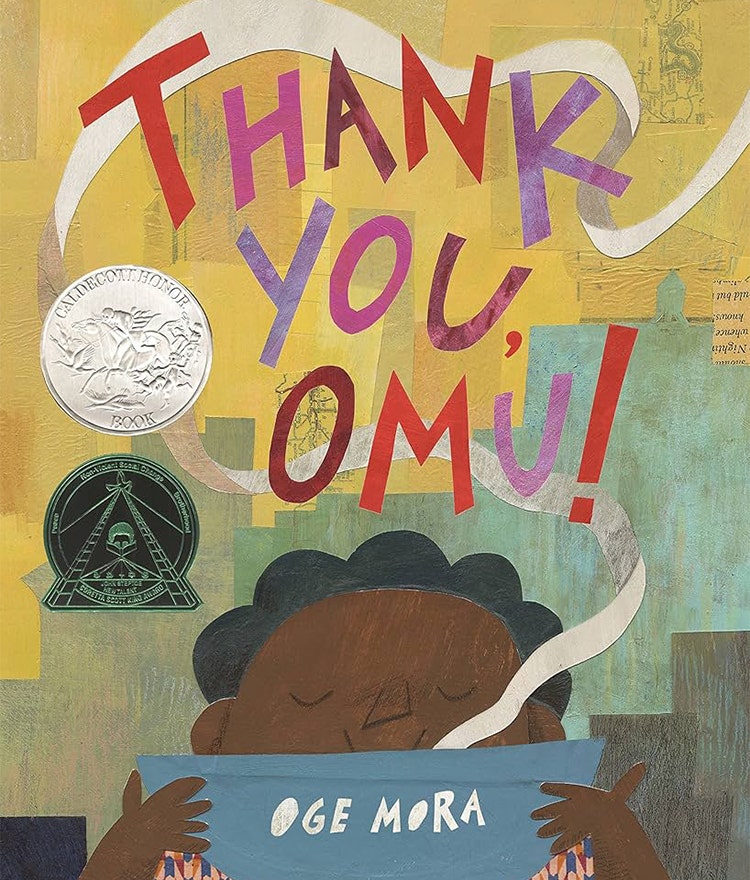 Thank You, Omu! by Oge Mora
Another Caldecott Honor book, Thank You, Omu! is the story of a lovely woman named Omu who learns just how thankful her neighbors are for her after sharing one of her favorite stews (until it's all gone!). Heartwarming and engaging, this picture book teaches the impact of generous actions and how gratitude comes back around when we do good deeds for others.
The Thank You Letter by Jane Cabrera
In The Thank You Letter, Grace immediately starts writing her thank you notes to friends, family, neighbors, her cat, her dog, the sky and much more after her birthday party. As we see Grace realize just how much she has to be grateful for, this story is a great reminder of all the things we have to be thankful for too each and every day.
Those Shoes by Maribeth Boelts
For ages 5-8, Those Shoes follows a little boy who desperately wants the shoes that everyone else seems to have, only to realize that the warm boots (among other things) he has are more than enough. A touching story about realizing what you already have is more than enough to be grateful for, this is the perfect book to teach kiddos thankfulness.
Giving Thanks: More Than 100 Ways to Say Thank You by Ellen Surrey
Giving Thanks outlines 100 kid-friendly ways for littles to say thank you – from sharing toys to giving hugs and more! Equal parts playful and practical, this book is perfect for ages 6–9 and will leave kiddos feeling inspired to make others feel appreciated, any way they can!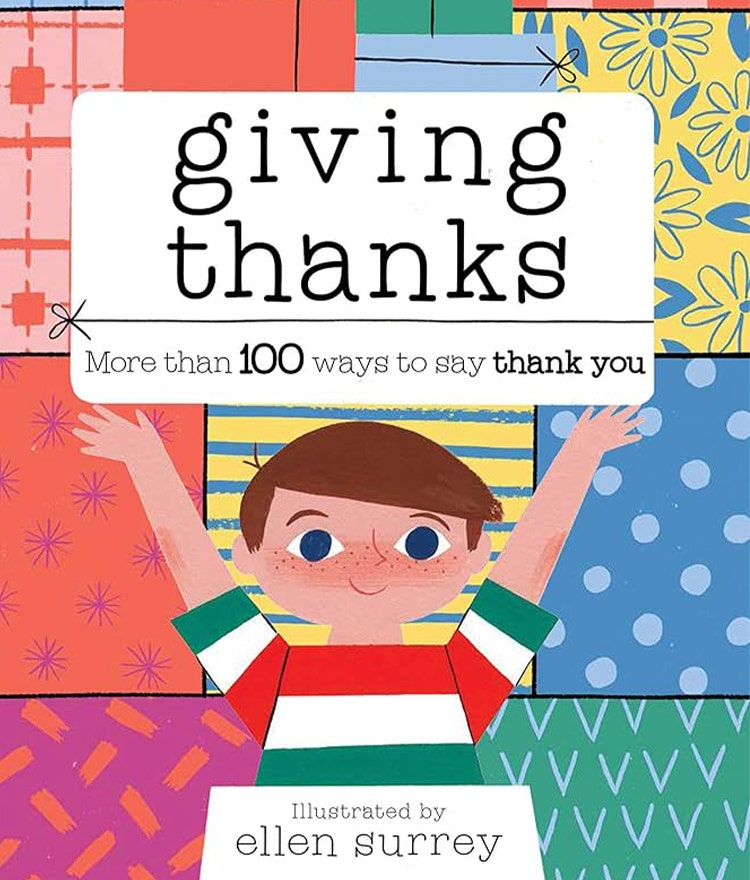 We're Grateful for YOU this Season!
With all of this gratitude talk, we cannot help but mention how grateful we are for YOU! Each day, we are amazed by the support and admiration for one another that the Lullaby Earth community holds. They say "It takes a village," and it's true – our team knows it because we've been there, too! We are here for you, parents, and could not be more thankful for you.
Wishing you and your families a safer, healthier Thanksgiving,
The Lullaby Earth Team
---