Our little ones grow up so fast, don't they? That's why we have been bursting to share the news! We've just launched a brand new MADE SAFE® certified non-toxic kids collection. Now you, your little ones and your not-so-little ones can rely on Lullaby Earth for safer, healthier sleep.
When to Transition to a "Big Kid Bed"
If you're wondering whether or not your growing little is "big-kid-bed" ready, we've got you covered. Generally, most children make the switch from a crib to a kids bed between the ages of 18 months to three years old.
Some good signs that your little one is ready to make the switch include:
They can climb in and out of their crib easily

Their chest reaches above the crib rail when standing

They have verbalized that they want a big kid bed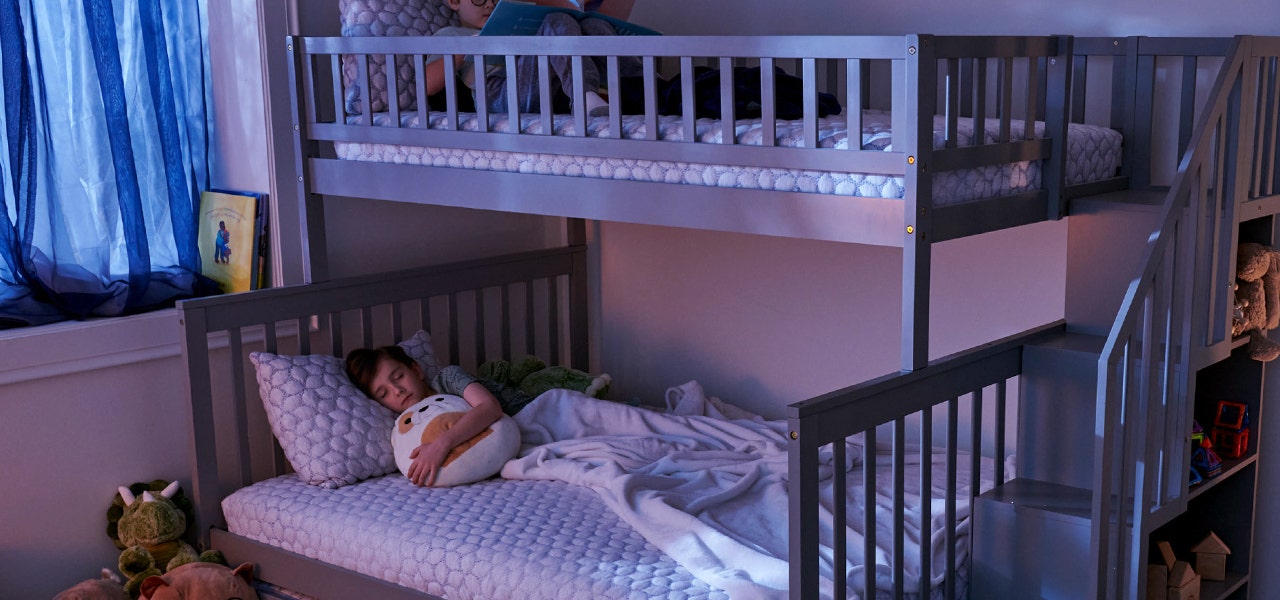 Non-toxic Sleep Is Essential for Growing Kids
A lot of emphasis is put on keeping toxins and questionable materials out of your baby's nursery – and for good reason! But even when your little one might not be so little anymore, it's still important to provide them with a non-toxic sleep environment.
As your child is growing, their immune systems and bodies are rapidly developing. This means that avoiding harmful chemicals – like formaldehyde, phthalates, vinyl/PVC and chemical flame retardants – is crucial. Childhood exposure to flame retardants specifically has been linked with developmental deficits, affecting:
Motor skills

Attention

IQ
Exposure has also been linked to more severe health risks, including hormone disruption and certain cancers. Protecting your child from toxic chemicals starts where they spend most of their time: on their mattress.
Meet the NEW Dream Easy™ Kids Mattress!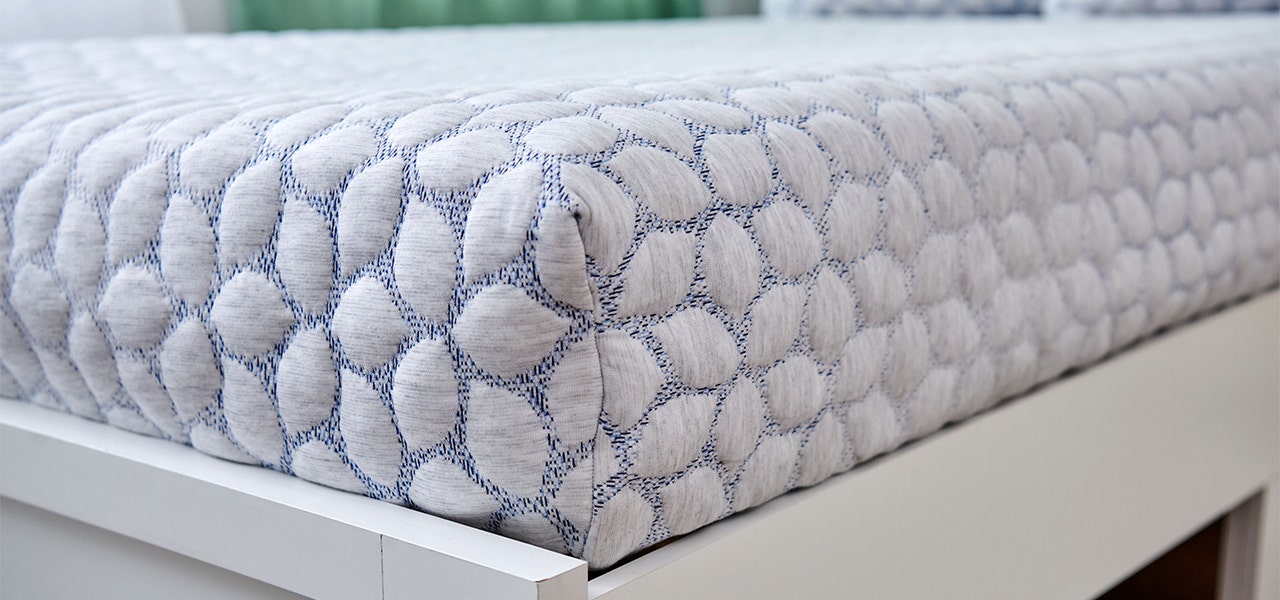 As part of Lullaby Earth's ongoing efforts to promote safer and healthier sleep for children, we're proud to introduce our all new Dream Easy™ Kids Mattress. This twin-sized mattress packs in all of the health and safety benefits that our beloved crib mattresses do – but in a bigger size for your bigger kiddos!
The Dream Easy is made without polyurethane foam, toxic chemicals, harmful VOCs or chemical flame retardants. Even without these yucky, scary chemicals, the bed still passes government flammability standards with ease. Just like our other products, our new kid's mattress is:
MADE SAFE® certified non-toxic
GREENGUARD® Gold certified for low chemical emissions
UL Formaldehyde Free validated
The Dream Easy Kids Mattress gives kiddos a space to dream bigger – and helps parents rest a little easier knowing their children aren't sleeping on toxins.
5 Reasons to Love Our New Kids Mattress
There are SO many things we could rave about when it comes to our new big kid bed. To sum it up for you, let's focus on our top five reasons why you'll love our new kids mattress.
1. It's non-toxic. Need we say more?
At Lullaby Earth, the only thing we hate more than scary chemicals is the idea of babies and growing toddlers ruining their sweet dreams by sleeping on them – that gives US nightmares!
We do everything we can to protect your little one from harmful chemicals and keep those good dreams flowing. Toxic chemicals are not only harmful to your children but harmful to our planet, too. We've designed all of our products to be safer for littles, easier on your wallet AND better for the Earth.
2. It makes potty training a breeze. Well, as much as potty training can be.
We're sure you know that potty training is messy, unpredictable and difficult. We've crafted our new kids mattress with these three things in mind. While we can't prevent accidents from happening, we've made sure that parents will never have to worry about accidents ruining their child's mattress!
The Dream Easy Kids Mattress includes a cozy-soft waterproof protector pad that's made without vinyl/PVC, phthalates, perfluorinated compounds (PFCs) or other questionable stuff. You won't have to worry about the messes seeping into the mattress or about toxic chemicals. And, the waterproof pad is machine washable and dryable, too!
This protects the inner layers of the mattress and keeps your child's bed cleaner, safer and easier to manage when accidents happen – and they will happen!
3. Supports healthy growth and development
Like babies, growing toddlers still spend a lot of time in their beds. Knowing this, we wanted to make sure that their favorite bedtime/naptime/playtime/anytime space is healthier and safer. We've crafted our kids beds to provide extra support for growing bodies, while also giving them a comfy space to rest and play.
4. Made Without Common Allergens
Your kiddo's still developing – which means allergies may still be developing, too. After all, their immune systems, like the rest of their bodies, are still adjusting to the world around them.
Our new kids mattress is made without any common allergens, like latex, for example. If your kiddo is allergic to something and you don't know it yet, you'll never have to find out at bedtime!
5. Better for the Earth
Of course, our products are made with your little one in mind. But protecting them from harmful chemicals is about more than protecting their bodies. It's about protecting the world that will one day be theirs, too.
Omitting toxic chemicals from our materials makes our mattresses better for the environment, plain and simple. Our mattresses won't leach chemicals into the soil for centuries and don't off-gas nastiness into the air we breathe. They're gentler for little ones and gentler for Mother Earth – which is a win for all of us.
Complete Your Kiddo's Sleep Space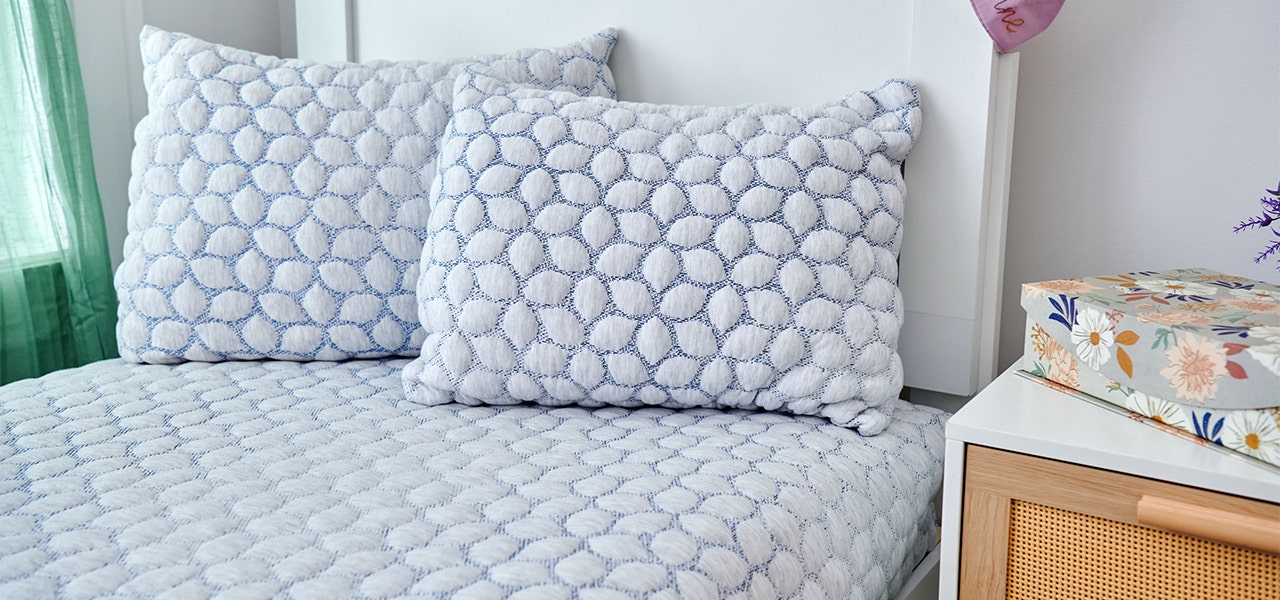 Want to take your kiddo's bedroom to the next level? Check out these other new products in our kids line, too!
Kids Pillow
Every good night's rest starts on a great pillow. And, with Lullaby Earth's new Kids Pillow, you can give that great rest to your growing kiddo!
Made just for kids, our pillow is supportive, allergy-friendly and – best of all – machine washable! We've left out polyurethane foam and any toxic materials – like or flame retardants – to make sure that your little one's first pillow is a great one.
Let your little one lay their head on a pillow that will give them a great night's rest … and keep them safer and healthier while they sleep, too.
Kids Waterproof Protector Pad
Worried about messes on your kid's mattress? We've thought of that, too – between potty training, curious childhood natures and life in general – kids can be messy! Our non-toxic and waterproof mattress protector pad fits perfectly onto our kids mattress to add an extra layer of protection. Never worry about your kiddo's bed being anything but clean and dry again.
Oh, and when messes do happen, you can simply throw our protector pad into the washer and dryer to have it sparking clean in no time. Comfy, convenient, certified non-toxic? Win, win, win.
If you haven't figured it out by now, we really could not be more excited to share our kids line with you. We know just how important your little one is to you – and that's important to us! We want to be right there alongside you to support them as they grow.